The long and attractive Pakistani salwar suit is the new trend in the town. It is the most elegant and astonishing attire that makes the wearer look super adoring. It is nowadays the love of each and every lady due to its lovely pattern and eye-catchy colors. The pakistani suits are decorated with pretty embellishments and prints that make it perfect for every occasion. They are found in a variety of fabrics and have thousands of color choices. The reason behind their popularity is that they are easy to manage and comfortable to wear. Some of the patterns such as sharara salwar suit and pant-style salwar kameez are the trendiest ones today. 
It Follows the Latest Fashion Trends
The Pakistani suit always provides you the best look. It has all the latest and demanded designs that a woman cherishes. It can be a two-layer lengthy dress, a ruffle layered kameez or a feather cut flared salwar suit that is eligible to give you a diva appeal. You have to admit that Pakistani suits follow the latest fashion trends or it compels women to follow the fashion. The kameez, the salwar, and the dupatta everything has the eligibility to give the wearer a sophisticated appearance. The dress can be detailed with adoring prints or it may have some sheer and intricate embroidery that makes it a perfect dress for festivals and occasions.    
It has a Number of Pattern Choices
The beautiful pakistani suits are available in thousands of patterns. All of them are dazzling and are suitable for evening parties and gatherings. Here are some of the most popular salwar suit designs that are suitable for every body type and look fabulous.  
Sharara Suit
The flared and immensely attractive sharara suits with a pretty neckline and intricate designs makes a flawless attire. The outfit consists of a stylish salwar that has a straight silhouette till the knees and a flared pattern from knees to ankle paired with a short-length kurti and a matching dupatta. The flare of sharara may have a single layer or can have more than two layers that give it an eye-catchy appeal.    
Anarkali Suit
Another popular pattern is the flared Anarkali suit that varies in length. It can be a knee-length kameez or a floor-length kameez paired with different pants or salwar depending upon the length of the tunic. Pairing a knee-length kameez with a loose palazzo gives a sterling look. This one is never out of fashion and is always the most admired pick. It can be a printed suit or an embroidered one that can be chosen depending upon the event to attend.   
Palazzo Suit
One more comfortable yet stylish salwar kameez pattern is the palazzo suit. The combination of a loose salwar and a straight kameez makes an adoring combination. This salwar even looks amazing with an a-line kameez or a knee-length slit kameez and a designer dupatta. The palazzo can be straight or may have a pretty flare that gradually increases below the knees to the ankle. It looks commendable with every type of knee-length tunic.
Pant-style Suit
The graceful and stylish one is the pant-style salwar suit that consists of a narrow pant or a straight pant paired with some fashionable kameez that can be straight or flared. One of the best things about this pant is that it can be paired with every type of kameez that can be either long or short. A plain pant paired with a straight kameez having the classical round neck and long bell sleeves makes a ravishing combination along a designer net dupatta. 
Slit Suit
The modish and fashionable attire that is perfect for a party and wedding function is the fabulous slit salwar suit. The kurti has a fitted silhouette at the upper body and is flared like the anarkali kameez at the bottom. The most attractive part of this suit is the slit that can be in the middle or at the side front. Nowadays this salwar suit is at the top and is loved by every young lady. Paired with fitted pants and a matching dupatta completes the overall ethnic look.    
Skirt style Suit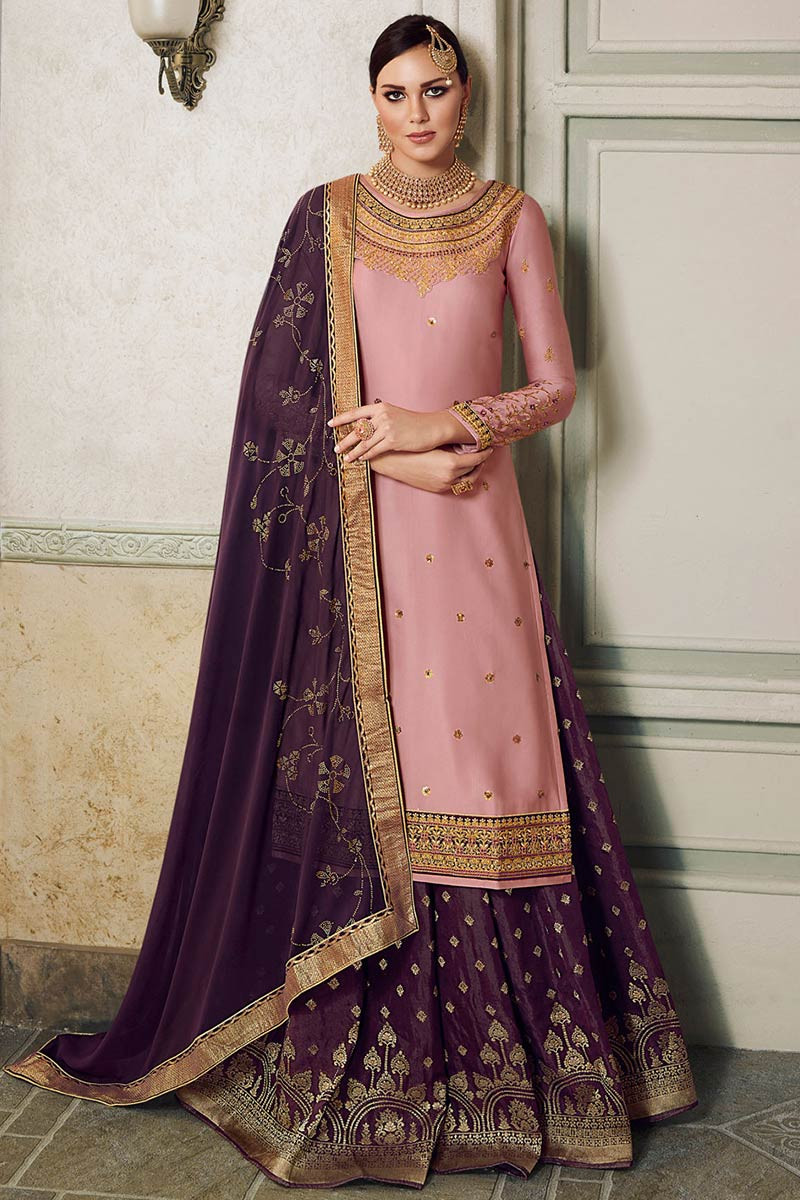 What about a flared skirt and a straight-side slit kameez? It is one of the trendiest and most adorned patterns by women. A flared skirt made of silk or georgette having broad laces and borders at the bottom paired with a beautifully embellished knee-length kurti having a round neck and long sleeves with thin laces at the end of the sleeves and some alluring embroideries are super eye-catchy. A gorgeous dupatta added to it completes the entire attire.     
It is Favourable for Every Function
As this wonderful outfit is available in almost every fabric, it becomes a favorable attire for each and every function. The suits are a fusion of western and ethnic wear that makes you the limelight of the function. The ones that are made from lightweight fabrics such as cotton, muslin, linen and lawn cotton are a perfect choice for hot weather and afternoon parties. The suits made from heavy materials such as silk, georgette, net and velvet are more suitable for special functions and events. You can get the beautiful wholesale pakistani suits or can opt for the offline shopping option whichever is more convenient to you.   
Pakistani salwar suits the latest fashion in town will complete your wardrobe collection. No woman can reject this traditional outfit at any cost. Its eternal beauty will skip your heartbeat and the exemplary prints and embroidery will definitely allure your heart. This incredible attire is not only famous in the Asian subcontinent but even has immense popularity throughout the globe.
You just need to choose the most appropriate one for yourself and pair some awe-inspiring accessories with it to get a delightful look. You can pair the expensive gold jewelry or can opt for the fancy oxidized ornaments studded with colorful stones and diamonds. Appropriate makeup and a pair of matching heels are mandatory with this attire. Last but not least add a clutch and you are ready to go!